Vacation time, family reunions, business trips and just pleasure
excursions require some planning and preparation. Maps, sunglasses, suitcases and snacks are packed. Kids are in the back seat with Gameboys, dolls, books and things to fuss about with each other. Wife
is in the passenger seat ready to do her job as backseat driver. Dad climbs in and starts up the engine; we're on our way.


Travel plans have been made and routes more or less determined, so
we don't lose our way and waste hours trying to get back on the right route because we ignored the maps and road signs. An impromptu side
trip can be enjoyable – until we realize we're lost. It's important that
we know where we are going or we won't know when we get there!


So it is with our life-journey. God has created a beautiful world for us to enjoy, and He is not against our having fun and taking vacations. He just wants us to pay closer attention to the road we are traveling to His house. As Pilgrim discovered in Pilgrim's Progress, there are many detours and hindrances on the way to Father's house. There is a stalking enemy
called Satan who wants us to take a side trip and go to his house instead. Have no fear: God knows that and has erected route signs and warnings
in His Atlas. We call it the Bible. It shows where a bridge is out, a
detour or dead end street. If we don't use God's map, we could very
well end up where we don't want to go.


"A man's heart plans his way, But the Lord directs his steps" (Proverbs 16:9 NKJV). Following plans made by our heart is not a safe way to go. The heart can deceive us; but allowing God to direct our steps is safe and the destination sure. "The steps of a good man are ordered by the Lord, And He delights in his way. Though he fall, he shall not be utterly cast down; For the Lord upholds him with his hand" (Psalm 37:23-24 NKJV).


Some people find it hard to ask for directions and feel they can find the way alone, ignore God's way and spend their life trying to save themselves. It's a futile effort.

To avoid going in the wrong direction, going in circles or in the opposite direction away from our intended destination it's important to use an authentic map with the locations accurately placed on the right route.
If we find that our map disagrees with the routes and road signs that means either the signs have been changed or the map is inaccurate.
God has an accurate, exact road map and His signs will guide us all the way to His house. He doesn't want anyone to get lost on the journey.
It is virtually impossible to get lost using His Atlas and
observing His signs.


God is our travel agent and our tour guide, and He wants us to have an enjoyable trip. All His signs are correlated with His Atlas, the Bible, and will help us make it safely home! "Your word is a lamp to my feet, And a light to my path" (Psalm 119:105 NKJV). Like newer model cars that
have daylight burning headlights, we need to have His light on at all
times to direct our paths. God's Word is our headlamps and should
never to be turned off on this journey. They will help us see any road hazards and enable us to avoid them.


Jeremiah called for Israel to "Stand in the ways and see, And ask for
the old paths, where the good way is, And walk in it…" (Jeremiah 6:16 NKJV). "Old" didn't mean outdated or useless, but referred to its dependability, traveled by countless saints before us who have already made it home and are waiting for us to arrive. It's the most scenic route where we can observe the Lily of the Valley, the Rose of Sharon, the
Balm of Gilead and we can view the bright and morning Star. This way
will have the choicest restaurant where we can dine with the Master
Chef. You'll see the advertising--"O, taste and see that the Lord
is good." On this highway, there is a geyser from which
Living Water springs.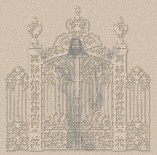 We must not forget there is another travel agent who offers free tours. Don't believe him. When you reach the end of the road, he'll hand you a bill that you'll spend all of eternity paying off. Oh, his tour will look
good in the brochure with promises that make it appear very much
like the one that God prepared for us. But in reality, he has turned the road signs to point you in the wrong direction, and you will never find
your way home if you follow him. If he makes you an offer, turn it down.
If you have already hired him, fire him! Go back to God's Atlas;
follow the original itinerary all the way to the Pearly Gates.


If you will do that, here is what you can expect on this journey.

Look, there on that hill. Do you see a cross?

Take a close look—Are you astonished at the site? Yes, it really is covered with all your sins. All the "hand writing of ordinances against
you" are nailed there (Colossians 2:14). Did you notice that they are
all covered with blood? No, though you are guilty that is not your blood;
it is the blood of Jesus. He is the one hanging there; it is His life's
blood that He shed for all your sin.


Are you weeping?

That is good. You need to be sorry for your sins and for breaking God's laws. It should break your heart that Jesus had to die for your sins there on that cross. You're sorry that you are responsible for His death?
That's the reaction you should have.

Now that you see your sins and admit your guilt, now that you are sorry that you are responsible for the death of Jesus and you want to make retribution, take another look at the cross. What do you see? Look!

The cross is empty! The sins are all gone!

Where is Jesus? He is gone from the cross. Look again and you will
locate his tomb. A rich man provided a burial place for Jesus. Do you
want to visit His tomb and mourn because He died for you? Come along. Now look inside. That's right, bend down and take a close look. Do you see Him? No? Look at the brilliant light; there are angels in it. Ask
them about Jesus; where have they taken his body? You just want to
pay tribute to One who expressed so much love for you when you
were not even paying attention to Him.


"He is not here. He has risen!" they answer.

That's right—He has risen from the dead. Not only has He arisen, He is alive forever! The good news for you is that your sins are gone forever also! Gone! Never to return.

Because He paid the penalty on that cross!

But where is Jesus? He is not on the cross; He is not in the tomb;
where is He? Stay on the road, consult the atlas and watch the road
signs. Look ahead—what do you see? It's Him! He's there in the pure Light of His Glory, beckoning you to come to Him. He's been waiting
for you to find your way. Did you notice what He is wearing?
It's His wedding clothes.

It's Jesus! He is waiting for you, His bride.

His Father has made all things ready, the feast is spread for the
Marriage Supper of the Lamb and you are the honored guest—
the bride! The wedding of the ages is about to take place.


The wedding is concluded and you have been invited to enter into the
Joys of the Lord forever. All because you used God's Atlas, consulted
His itinerary, followed His signs and obeyed His traffic signals. You accepted the free gift He gave you on the cross. It's called Salvation
by Grace. You chose Him as your tour guide and He brought
you safely
home.

Are you ready for another trip? Let stroll down the streets of gold!


The "Handkerchief" has been anointed and prayed over by several believers who care about you and want to help you realize your full potential in Christ Jesus Our Lord.